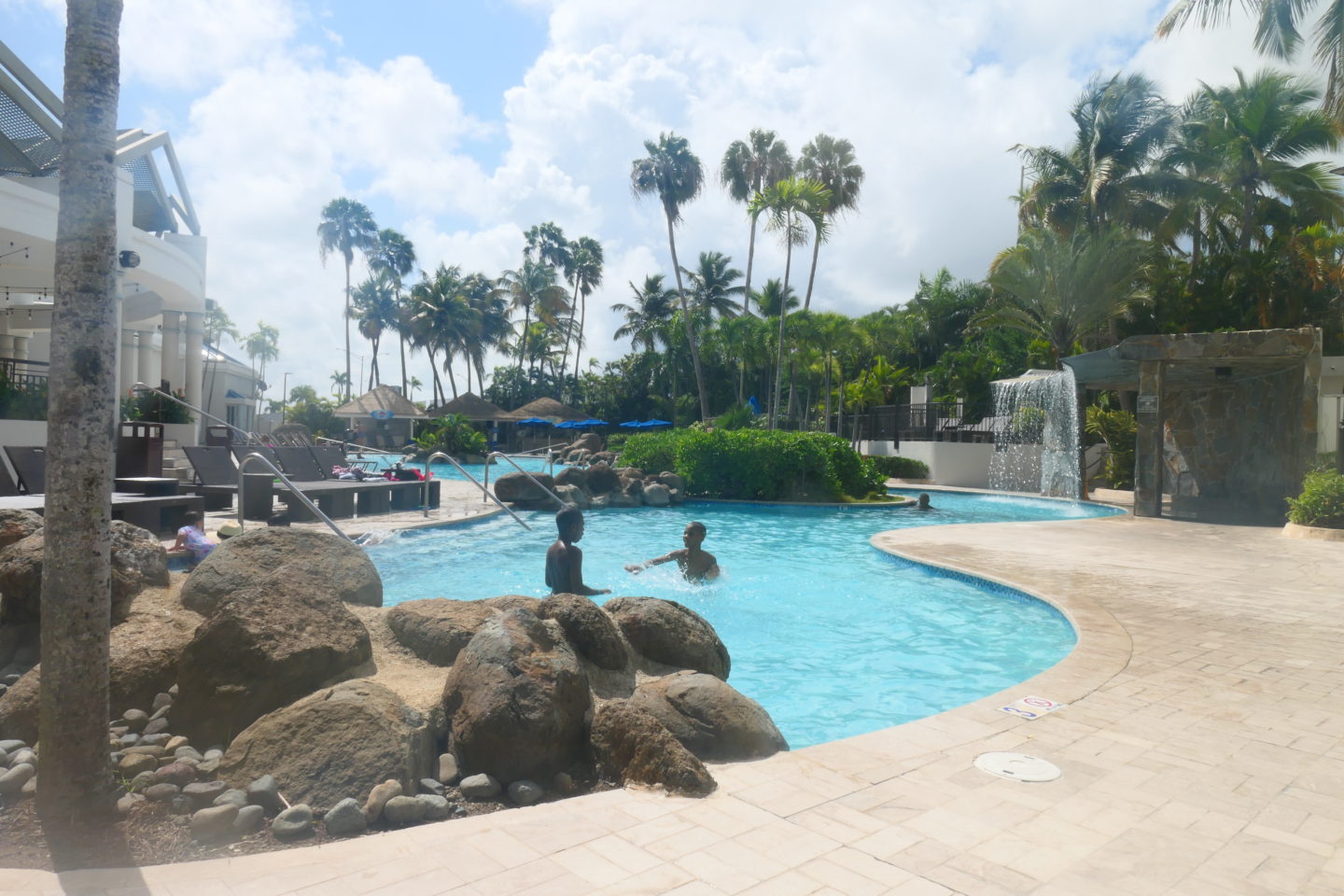 As mentioned in my previous post we spent an amazing seven days in San Juan, Puerto Rico over the summer. I am writing this post 50 years later because many of you are thinking about traveling there now in the off-season. DO IT (safely of course)! The prices for flights are beyond affordable and I'm sure it won't be as crowded since children are back to school. Let's get into all we did in San Juan!
We arrived late on our first day due to our flight being delayed twice. So, when we arrived after midnight, we went straight to bed. The next day we woke up early for our hotel's complimentary breakfast buffet and then chilled poolside to relax. The boys can live in a pool, literally, they will be there for HOURS. They swam in the pool every day during our trip. I love that for them.
For lunch, we took a taxi down to Old San Juan and explored that area for a bit. We were recommended to go to Raice's for authentic Puerto Rican food. Later in our trip, a travel guide told us that Raice's is nothing but a tourist trap, but what did we know? I enjoyed my tacos, and my husband loved his steak mofongo. There are plenty of restaurants along the strip, so there is a variety to choose from.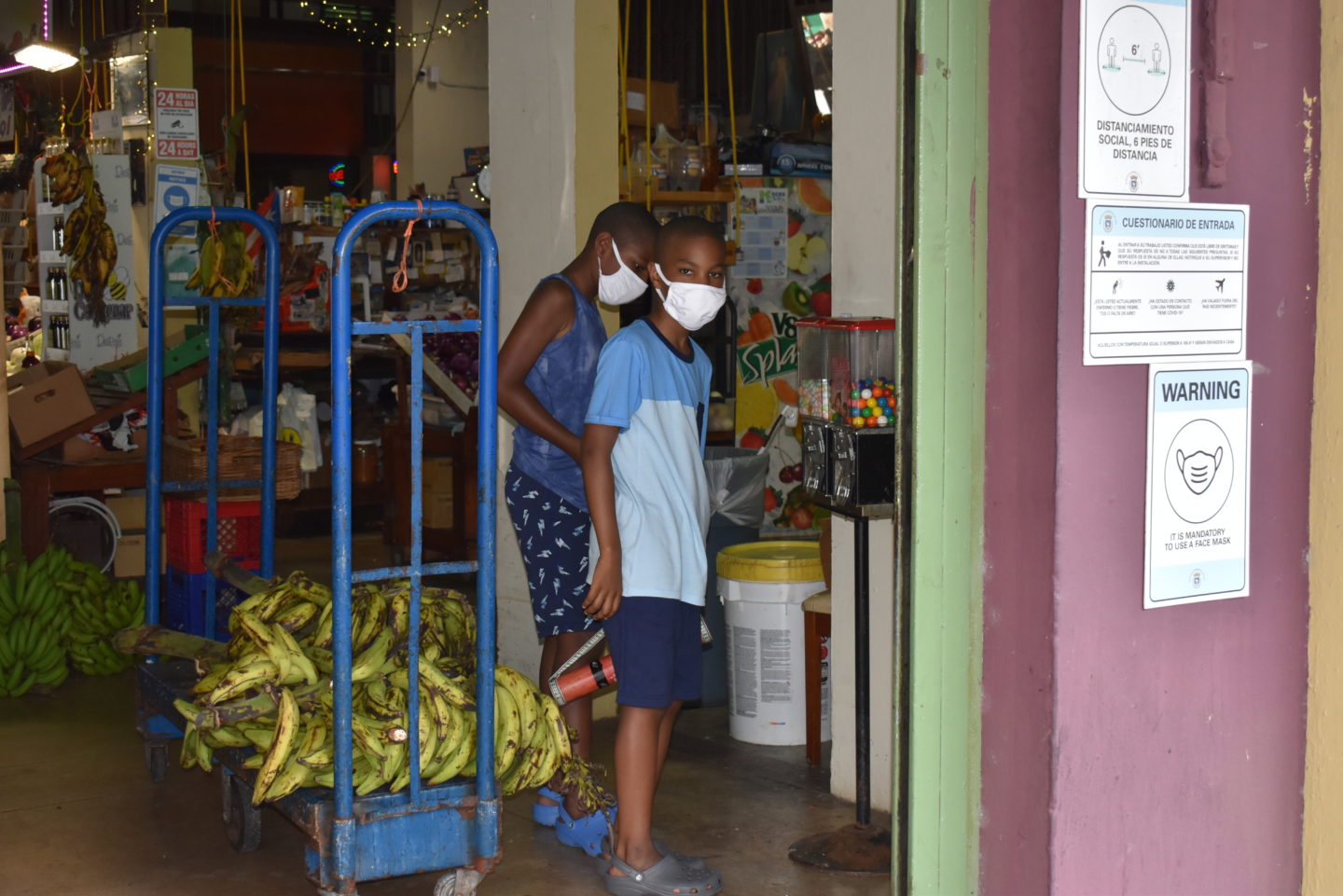 After lunch, we took a trip to Placita De Santurce to get some local fruits and snacks to keep in our room. I was also able to buy some local beaded jewelry from a street vendor in this area, an evil eye bracelet, and an anklet. After this we headed back to the hotel and chilled for the night, I was still a bit tired. La Placita is also where they have some nightlife on the weekends. I mean there is music blasting, and everyone is in the streets eating, drinking, and dancing.
We couldn't go to Puerto Rico and not go to the beach, like are you kidding? The beach closest to us was the Isla Verde beach. Now where we stayed, I was told was the quiet side of the island. Carolina is where the popping people stay. I don't know how true it is, but I'm old so I didn't mind having some peace and quiet. After all, I didn't go there to party and turn up. The boys much prefer a pool over the ocean because they are novice swimmers, but they enjoyed themselves and I got to work on my tan. After the beach, we had lunch and headed back to the hotel where they swam some more in the pool. This is my life, LOL!
Since this is a family excursion, I planned an educational day of adventure. They weren't happy about it at first, but I know they will have the lessons and memories forever. The historical site is home to some of the colonial era forts and housing for the soldiers back then. You can get a brief history lesson here. It was so hot that day, we did not explore all the forts as I had hoped. NBA star Carmelo Anthony also has a beautiful basketball court nearby, everyone was taking pictures of it and not playing basketball 🥴. After the site visit, we stayed in the area and had lunch, and did some shopping. I bought an authentic boater hat from the cutest little hat boutique that I wore later that evening!
We slipped out after the boys went to sleep for a bit. Remember the nightlife I mentioned before at Placita de Santurce? It was a cool little vibe. We didn't stay out long because my nerves were bad with the kids being alone, but Mama has to have a life too LOL.
To kick off Ade's 40th birthday weekend, we took a boat tour around Old San Juan. This is an old sailboat and a different experience from say a catamaran or other luxury sailing vehicle. We really enjoyed this, and the staff was informative, friendly, and safe. The tour lasts about an hour, and they give historic context to some of the sites along the way. After we docked, you already know it was time to eat. The tour did not provide food, only drinks. We ate at Cayo Caribe which is down the block from Raice's and was delicious. When we went to Puerto Rico, the food service was not the best, in all transparency. The wait times at some of these places were up to and over one hour, but we made the best of it. After we ate, back to the hotel for guess what….more pool time for the boys!!!
We celebrated the actual birthday at STK San Juan because Ade is a steak lover. He's Nigerian, he loves meat period. But I digress. He isn't into too much fluff and shenanigans, so we kept it light. Plus, when we were finished with our dinner, there was a massive downpour. Back to the hotel to chill and lay out some more after the rain stopped.
Our last night in PR, we ventured to the Distrito T-Mobile amusement area. I wish we had known about this venue earlier in the trip, so we could have had more time to explore all the attractions. We did some zip-lining and had some food, but there is so much more to do here. I recommend this place for everyone with children.
So that was our trip in a nutshell. There is also a highlight of it all on my Instagram page if you would like to relive it via video commentary! Thanks so much for reading this long-ass post, if you made it this far, BLESS YOU!